SAINT MARTIN DE TOURS CATHOLIC CHURCH
201 Evangeline Blvd. St. Martinville, Louisiana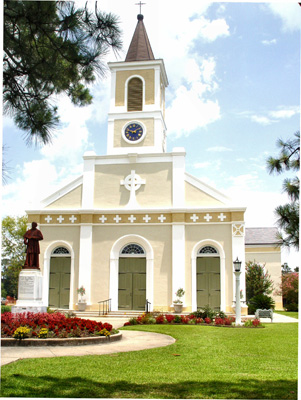 Click images to see enlarged photo
The Lafayette, Louisiana area, approximately 150 miles west of New Orleans, is rich in historic churches. St. Martin DE Tours Catholic Church is the fourth oldest church in the State of Louisiana. Built in 1836 on the site of a previous church, it is the "mother church" of the Acadians. Attached to the church is a cemetery containing the statue of "Evangeline".
Looking down the main aisle

At this time, we are attempting to obtain a complete specification for this organ. OUSCDB lists it as a 1978 renovation by the firm of SAVOIE & MURRELL, however, it is believed that this is an historic Pilcher instrument dating to the mid 1800's.

"Gated" pews are a throwback to era when churches reserved pews for individual member families.

Stark Contrast of the old against the new in this view of downtown St. Martinville.