NewOrleansChurches.Com®
Photography by John and Kathleen DeMajo .
METROPOLITAN TABERNACLE CHURCH


(Also called First Baptist Church of Algiers)
501 Opelousas Avenue. New Orleans, LA 70114 (Algiers Point)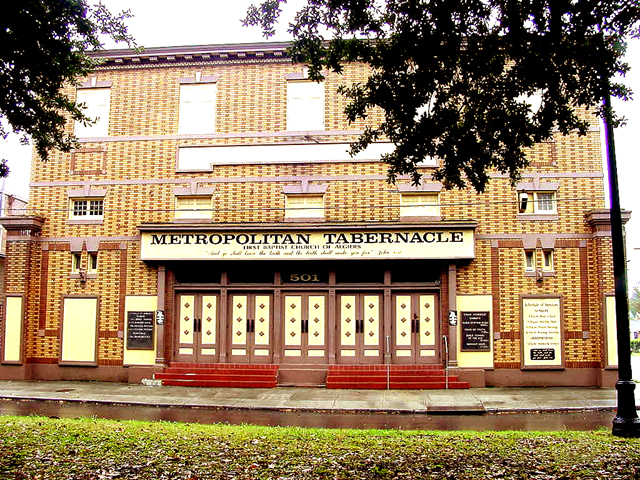 BUILDING HISTORY
This building was originally a neighborhood motion picture theatre dating to the 1900's silent film and vaudeville era. The "Folly Theater" originally "Philip Foto's Folly," opened in 1915 in the Algiers section of New Orleans. In its early days, the Folly presented live stage shows and vaudeville in addition to movies, as well as hosting civic events. Its theatrical days ended in the 50s. The building once housed a 1920 Tellers and Kent 12 rank, 2 manual theatre pipe organ. That instrument was long since removed even before the theater was closed, and it is believed that the church may have been using an electronic organ or acoustic instruments. There are no builder's records to indicate that a pipe organ currently exists at this location.