SAINT ANNA'S EPISCOPAL CHURCH
1313 Esplanade Avenue, New Orleans, LA.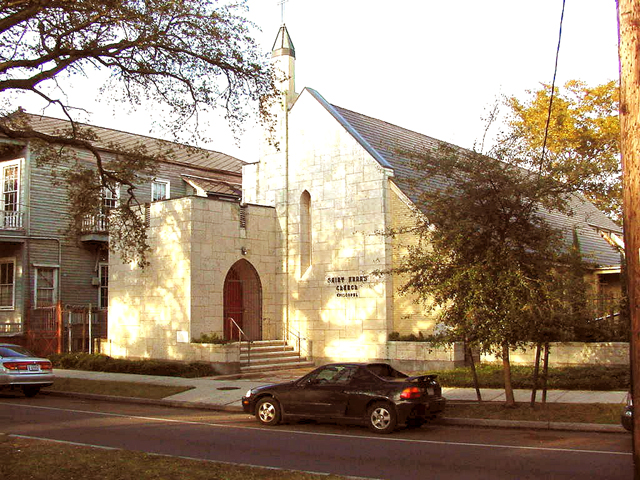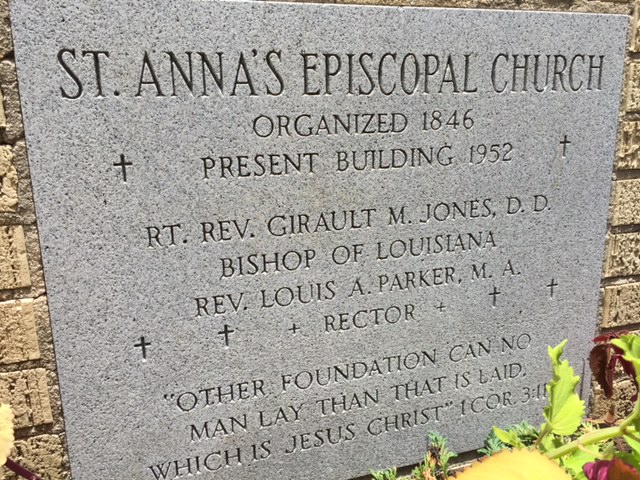 The corner stone of the present St. Anna's church building.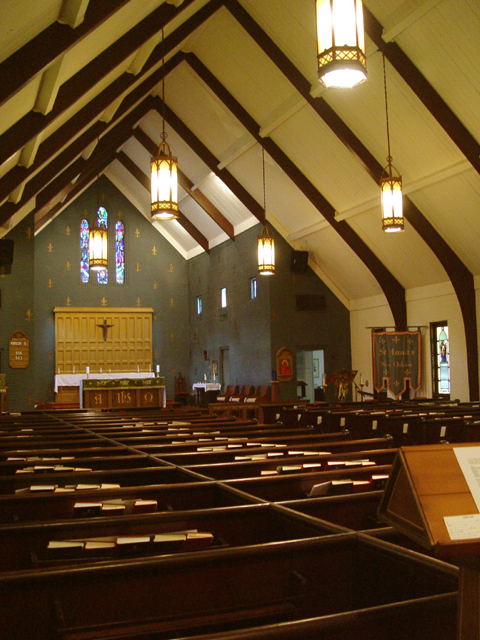 View of church interior prior to recent upgrades.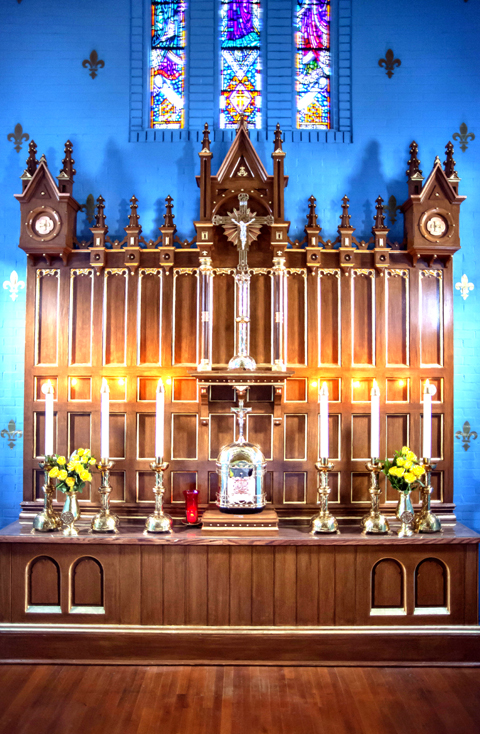 Present day view of the altar.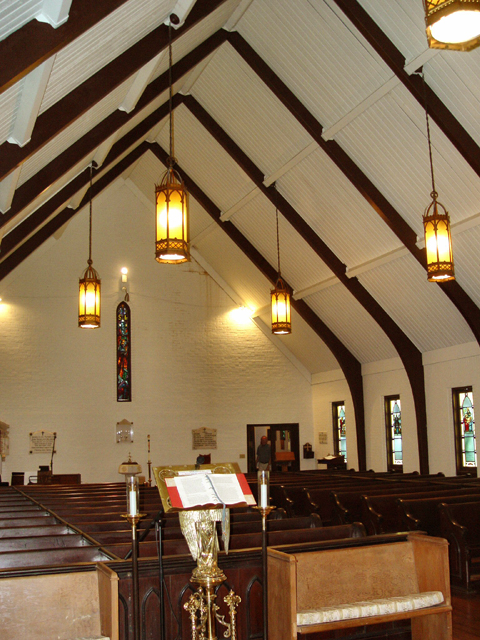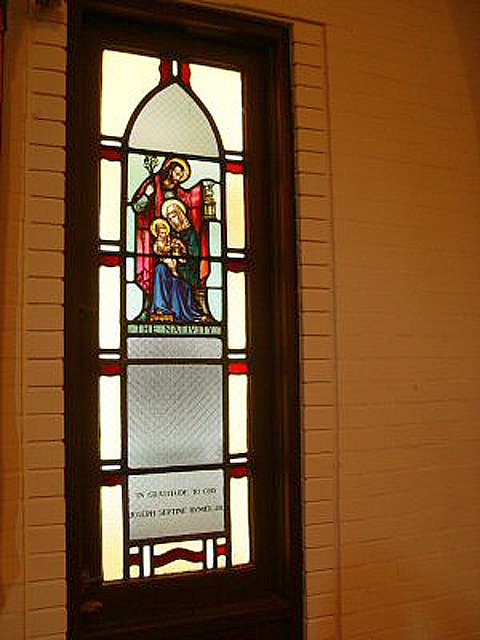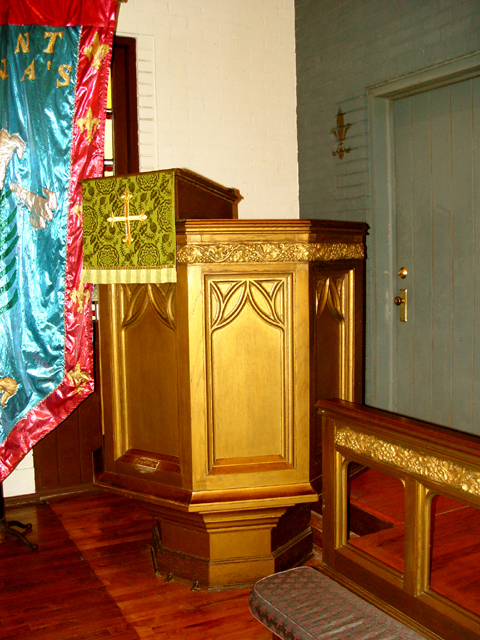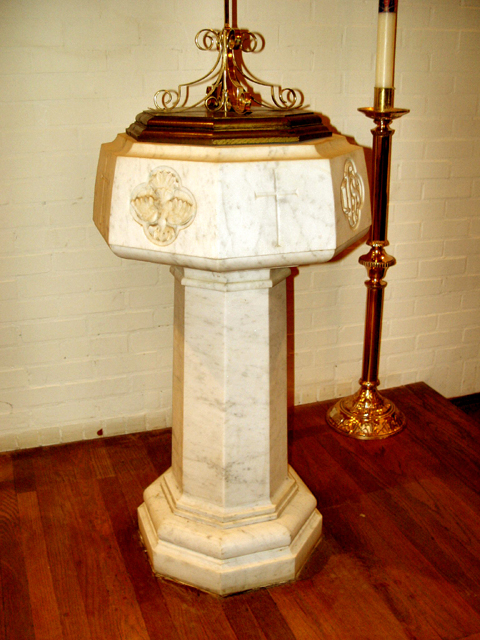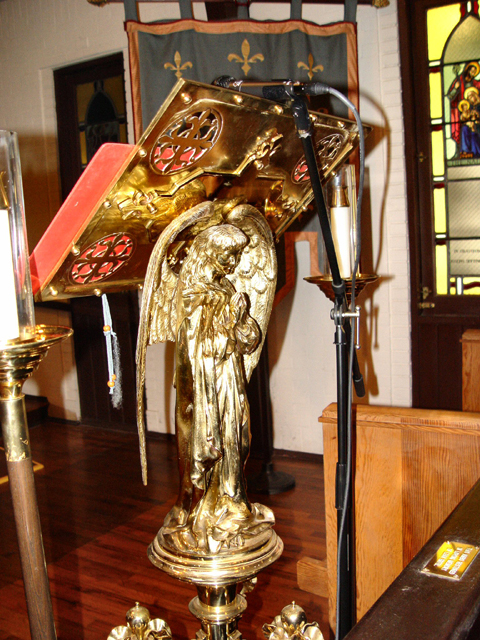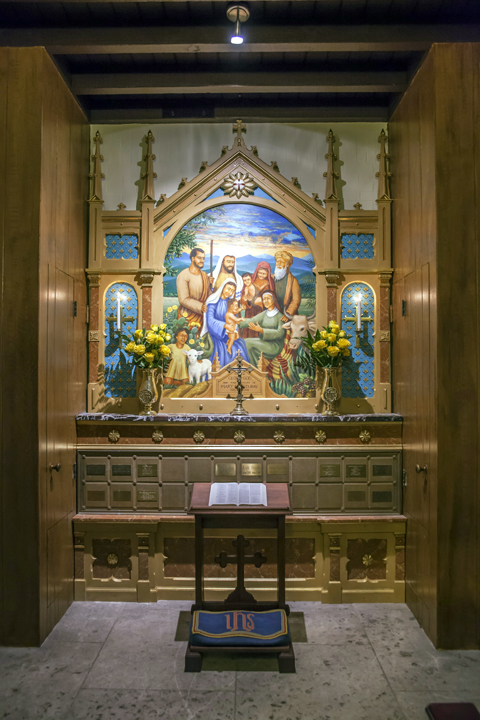 New chapel which was recently constructed in the Narthex.
ST. ANNA'S EPISCOPAL CHURCH HISTORY
(provided by present pastor Fr. Bill Terry)
The old Gothic church, shown below, is actually the third church for St. Anna. It was built in 1880 or so and condemned and torn down in 1950. The current structure was completed in 1952 under the direction of Fr. Parker. The first congregation met in 1846 at #5 Esplanade Avenue as a Seaman's Mission. Dr. Mercer, a well known philanthropist, bought the property at its current location in the 1860s and gave it to the church. The first church at this current site was a wooden church destroyed in a significant fire in the 1870s.
Messers Joel Dyer and Brandon Way designed, crafted and installed the chapel (located in the Narthex) and new reredos. Much of the work is faux graining and marbling. The mural is a rare one in that it depicts the extended Holy Family, Jesus, John the Baptist, Mary and Joseph, Anna and Joachim, Zechariah, and Elizabeth and with a bit of whimsey another child who the artist claims is an unnamed cousin.
I have included a photo of The Rev. Louis Parker who came in 1947 or so and was responsible for the demolition and rebuilding of the church.
The old church built some where between 1875 and 1885 lost its steeple in a hurricane in 1915. It was condemned by the city in 1947 as best as we can figure.
I've included a picture of Anna Mercer. The original was located at St. Anna's Asylum. That building was originally a widows and orphans home also funded and founded by Dr. Mercer located on Prytania St. and established in 1853. For a time St. Anna's Church was the governing body of the Asylum (picture included).
HISTORIC PHOTOS
(Thanks to Fr. Terry for the use of several of the historic photos shown below)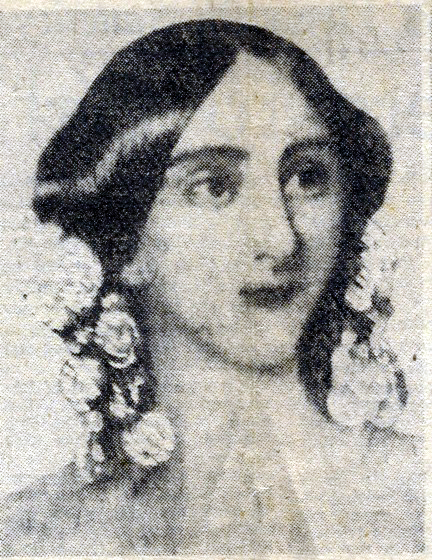 Dr. Anna Mercer, founder of St. Anna's Asylum, a home for widows and orphans in New Orleans, purchased and donated the land in the present location of St. Anna's Church.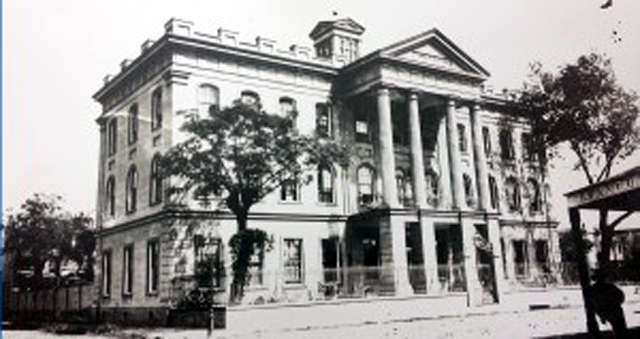 St. Anna's Asylum, a widows' and orphans' home located on Prytania St. which, for a period of time, fell under the governance of St. Anna's Church.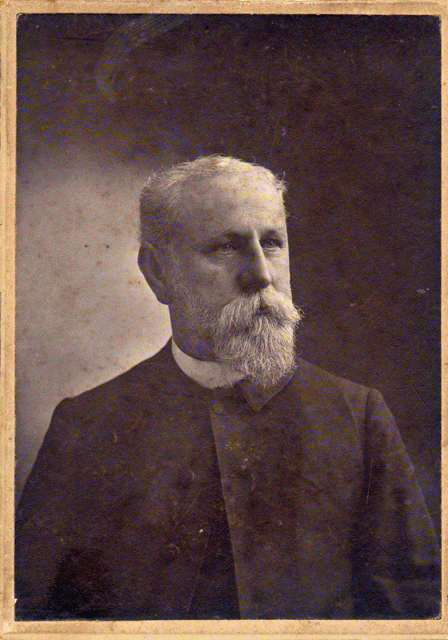 Father Alfred Clark, who was pastor of St. Anna's in the late 1800s, was the great uncle of New Orleans Churches.com founder John DeMajo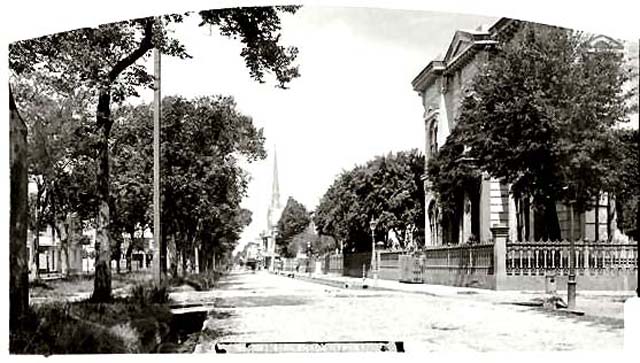 A view of Esplanade Avenue in the 1920's, showing the steeple of the 1895 St. Anna's Church off in the distance. (Photo courtesy of New Orleans Public Library)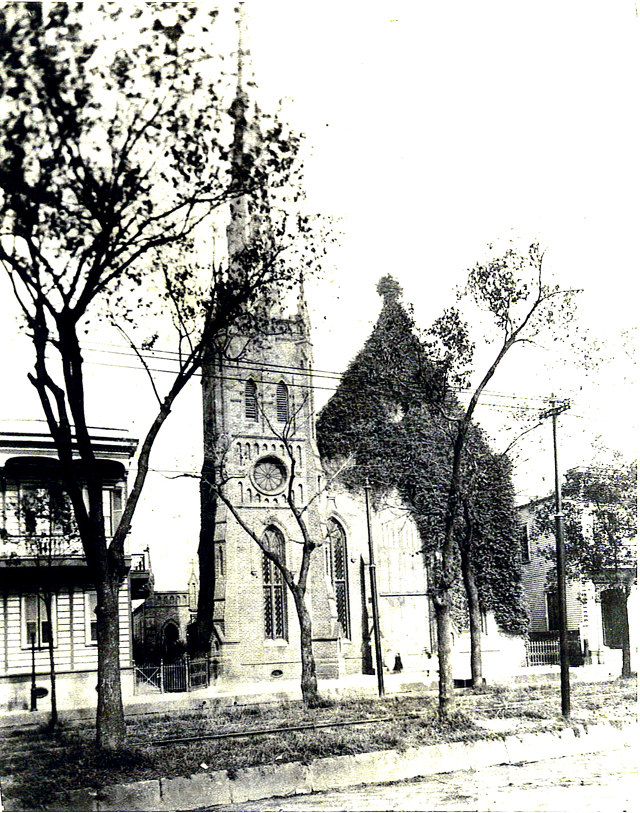 A view of St. Anna's church building which was built in 1895. It was badly damaged and hence demolished in 1950 to make way for the present church which was completed in 1952.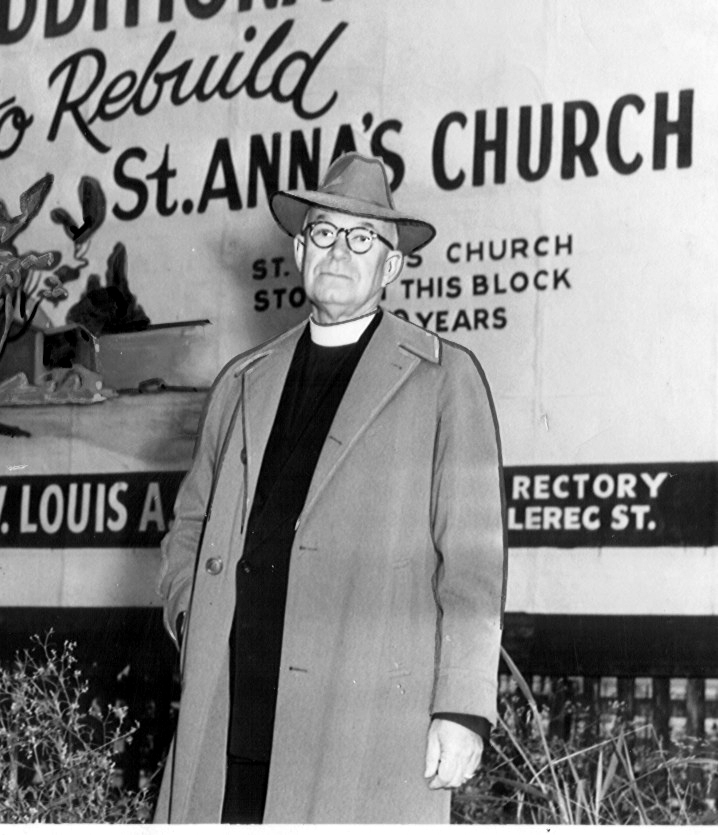 Rev. Louis Parker, who was pastor at the time that the damaged church was demolished, and the present church was constructed.
ORGAN INFORMATION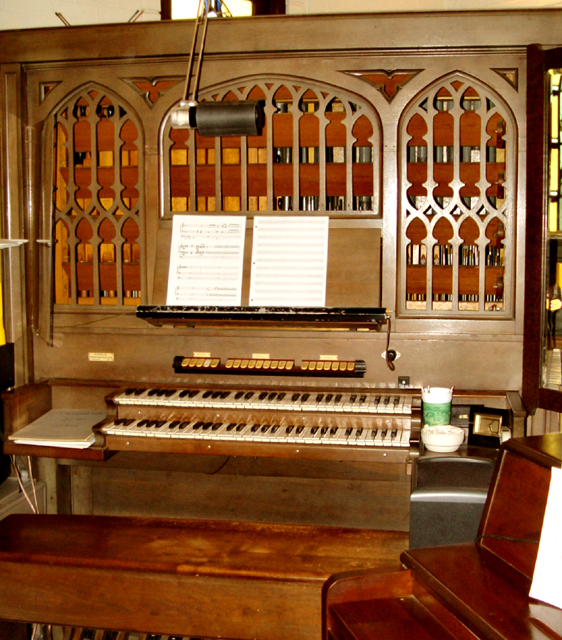 Moller Opus #6440 (1937) was the instrument in use at the time these photos were taken. Locally available information states The organ originally was supplied by Moller to Gentilly Presbyterian Church, and later was moved to Holy Comforter prior to being transferred to St. Anna's.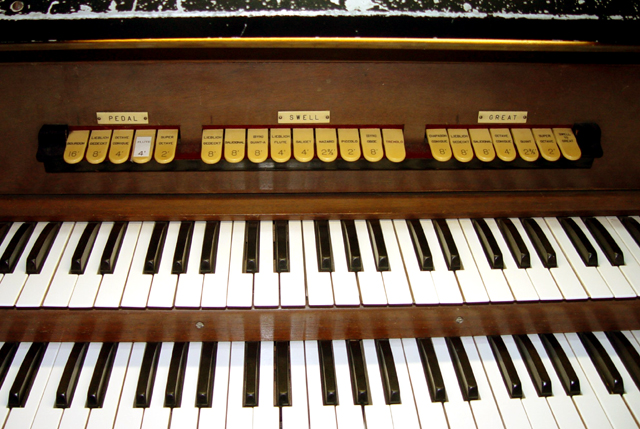 SPECIFICATION FOR 1936 MOLLER ORGAN (Opus 6440)
PRESENT ORGAN LOCATED AT ST. ANNA'S EPISCOPAL CHURCH

GREAT

SWELL

PEDAL

Diapason Conique 8
Lieblich Gedeckt 8
Bourdon 16
Lieblich Gedeckt 8
Salicional 8
Lieblich Gedeckt 8
Salicional 8
(Syn) Quint-A 8
Octave Conique 4
Octave Conique 4
Lieblich Flute 4
Flute 4
Quint 2-2/3
Salicet 4
Super Octave 2
Super Octave 2
Nazard 2-2/3
Piccolo 2
PEDAL MOVEMENTS
COUPLERS
(Syn) Oboe 8
Expression (bal)
Swell to Great
Tremolo

ORGAN HISTORY - ST. ANNA'S EPISCOPAL CHURCH

The organ shown above is, as far as can be determined, the third organ that has served St. Anna's. In 1886, Elmira Jane Clark Nicolini, great grandmother of New Orleans Churches.com founder John DeMajo and sister of pastor Fr. Alfred Clark, was organist at St. Anna's. Mrs. Nicolini testified, before her death, that at the time she was organist, the church had a foot pumped reed organ.

The church, previous to the present church building, housed Moller organ Opus #1517, which was a 2 manual instrument that was located in the rear choir loft of the church. It is believed that the instrument was damaged when the facade wall above it collapsed, and it was subsequently demolished with the building.

The present organ (Moller Opus 6440, built in 1937, was originally located at Gentilly Presbyterian Church on Gentilly Blvd. and Franklin Avenue. Later, it was used at Holy Comforter Episcopal when that church was located on the corner of Mirabeau Avenue and Elysian Fields. Following removal from that church, it was transferred to St. Anna's where it remained at last inquiry.